First, the Wearables
Wearables – small electronic devices worn next to clothing to record personal data – have insinuated themselves into the lives of millions of people.
After Google Glass, Fitbit and the Apple Watch, the marketplace has become crowded and designs are maturing. Capabilities such as the ability to measure heart rate by optical means (see figure 1) now work as accurately as earlier medical devices.  Tight integration with sophisticated smartphone apps have expanded what these devices can do.
Hardware is also marching on – for example, the Intel Curie is a tiny module aimed at providing all of the intelligence needed by wearables, as well as full-scale motion sensing.  This kind of innovation will enable less engineering-savvy companies to enter the wearable market.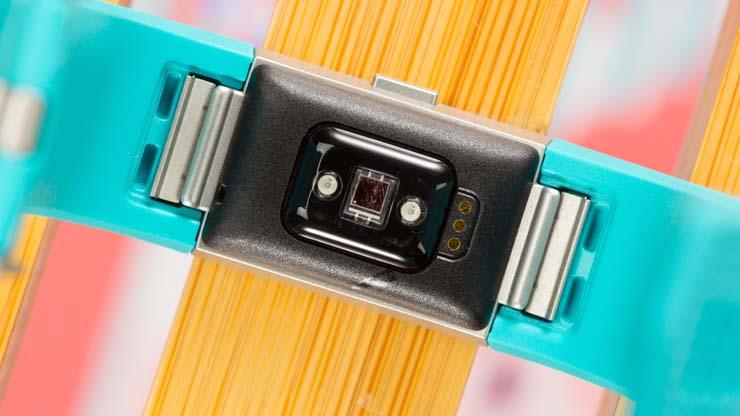 Figure 1: The underside of a popular wearable product, showing two light-emitting diodes and an optical detector.  Together these are used to estimate the wearer's heart rate.
And now, Hearables
What is a Hearable? And how might this be a disruptive technology that changes the everyday lives of consumers?
Hearables are sensors embedded in earbuds to play music, improve hearing and gather physiological data. They are a generation smaller than wearables and potentially more capable.  Figure 2 shows an example: the Bragi Dash.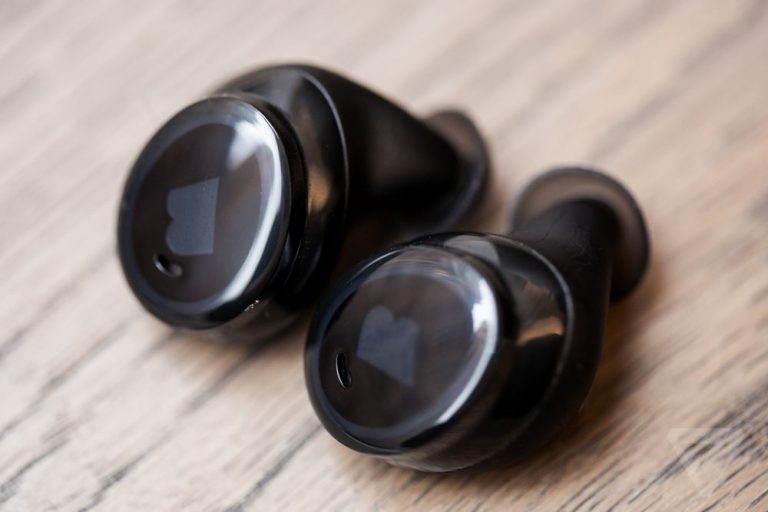 Figure 2: Bragi Dash hearables: Bluetooth wireless headphones including a media player, fitness tracker, heart rate monitor and step counter. They also contain an accelerometer, gyroscope and magnetometer.  Connections from one earbud to the other are achieved with Near Field Magnetic Induction, like a hearing aid.
Refreshingly, Hearables are not a technological solution looking for a problem.
Initial market demand was driven by the Boomer population peak arriving at an age where hearing loss is noticeable. To meet this need, Resound's Linx3D smart hearing aids incorporate app-based personalization and beamforming to make speech more distinct in differing locations.
Products like Doppler's Hear One go further in technology, manipulating or 'curating' sound to selectively cancel airplane or restaurant noise, while enabling calls and streaming music.
Now, full-on hearable computers from Bragi and others are offering translation and "3D audio" (a form of mixed reality).  Many large companies have entered the space, such as Bose, Samsung and Jabra.
An exciting characteristic of hearables is how good the ear canal is as a place to measure biometrics.  Biometric data from hearables is better than what can be derived from the typical wrist-mounted wearable.
Physiological measurements of heart rate, cardiac efficiency, oxygen capacity and fatigue need a good location to get light into the body and reflected by flowing blood. Unlike with wrist-worn gadgets, ear anatomy hardly moves even with vigorous exercise.  Plenty of blood vessels are available to measure to provide a clear view of circulation.  These vessels make a very direct connection to the heart via the carotid artery.  Unlike in wrist devices, signals are not compromised by numerous bones, tendons and muscles.  Blood pressure and temperature readings are also improved when measured in the ear canal.
With all of this tail-wind, hearables have become extremely "hot". Wireless connectivity guru Nick Hunn proclaimed "Forget wristbands – The Ear is the new Wrist."  And one prediction holds that Hearables sales will reach $45 billion in 2020.
Litigation in wearables and hearables which may require a hearable expert witness or a wearable expert witness
The feverish level of development activity has resulted in a dense patent landscape. IP activity is so lively that entire web sites are devoted to keeping up with filings.  Major hearing aid companies such as Sonova, Siemens and Phonak are well represented, with Apple and Google rapidly catching up.  Leading audio companies like Bose and Sennheiser also have large portfolios.  Several small companies also hold key patents.
Litigation is quite common in this area. As one example, heart rate monitoring methods and algorithms have much ongoing litigation [e.g., (1), (2)].
About the author
Dr. Chris Daft is an award winning, Oxford Educated scientist. He is an expert witness and consultant whose areas of expertise include medical devices, MEMS, transducers, ultrasound and medical imaging. Dr. Daft has extensive Intellectual Property experience including patent development, analysis, licensing, and strategy.  He is a serial inventor who holds 22 U.S. Patents with more pending.  Dr. Daft holds a BA and MA in Physics from Oxford as well as Doctorate from Oxford in Materials Science.  The author may be contacted at:
chris.daft@riversonicsolutions.com
+1 (415) 800-3734   +1 (408) 806 7525
River Sonic Solutions LLC 2443 Fillmore St #380-4039, San Francisco, CA 94115.
References
Fitbit, Inc. v. AliphCom et al., United States District Court, Northern District of California, 3:17-cv-01139.
Valencell, Inc v. Bragi Store, LLC, et al., United States District Court, North Carolina Eastern District, 5:16-cv-00895.