What is a transducer?
The first job of a transducer expert witness may very well be to explain what exactly a transducer is. The word "transducer" comes from the Latin verb transducere, meaning "to transfer."  A transducer transfers one type of energy to another.
Modern technology uses electrical signals extensively, so today's transducers often convert electricity into some other type of energy. An everyday example is a loudspeaker, which produces sound waves when driven by an audio-frequency electrical signal.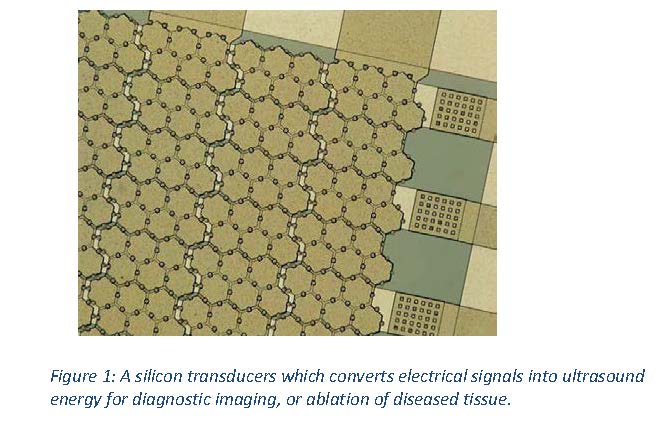 Examples of transducers
A transducer expert witness may be called to work on cases dealing with different applications of this technology, such as a cell phone. Cell phones contain many types of transducer: these sense motion, let the phone figure out its physical orientation, vibrate to attract the owner's attention, enable voice calls via the microphone, and implement biometric security by reading fingerprints.
Transducers which convert between mechanical energy and electricity are particularly interesting.  These can be as simple as a crystal which is hit with a hammer in order to make a spark to light a gas grill.  Or, as shown in Figure 1, a transducer can be a complex silicon device designed to produce an image of the inside the body.  This type of transducer is a MEMS device, where MEMS stands for Micro-Electro-Mechanical System.  MEMS transducers take advantage of the enormous financial investment which has been made in silicon processing techniques.  An example of an image produced by this transducer is shown in Figure 2.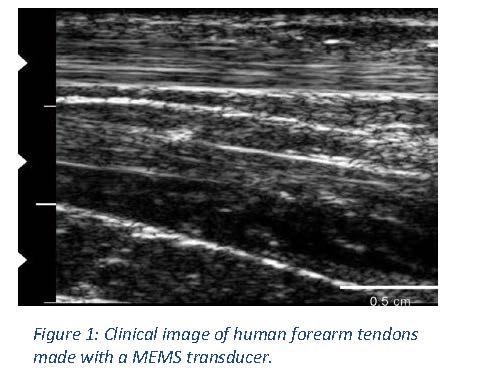 Legal issues around transducers
Transducers are often a key part of what makes a product stand out from its competitors, and are frequently at the center of patent litigation which will employ the transducer expert witness. Examples include electro-acoustic filters, manufactured by the billion, which allow cell phones to operate in the numerous frequency bands defined by national regulations.  Next year a typical cell phone will include around 60 of these devices, aspects of which are zealously litigated (e.g. Triquint Semiconductor v. Avago Technologies).
In medical imaging, producing volume data of the human body—rather than the slice shown in Figure 2—is of great clinical and economic interest.  Litigation around the fundamental innovations of volume imaging in ultrasound stretched from 2005 to 2013 (e.g. Volumetrics Medical Imaging v. GE Healthcare) and transducer technology played a central role.
In summary, transducers are a critical piece of technology in many products. They are where the "rubber hits the road" – they are how electronics and computing connect to the real world.  As such, they are of great technological, financial and legal interest.
_____________________________________________________________________________________
Dr. Chris Daft  is a an award winning, Oxford Educated scientist. He is an expert witness and consultant whose areas of expertise include MEMs, transducers and medical imaging. Dr. Daft has extensive Intellectual Property experience including patent development, analysis, licensing, and strategy.  He is a serial inventor who holds 22 U.S. Patents with many more pending.  Dr. Daft Holds a BA and MA in Physics from Oxford as well as Doctorate from Oxford in Materials Science.  The author may be contacted at cdaft@riversonicsolutions.com +1 (415) 800-3734   +1 (408) 806 7525 River Sonic Solutions LLC 2443 Fillmore St #380-4039 San Francisco, CA 94115 www.riversonicsolutions.com
References
Triquint Semiconductor v. Avago Technologies, 2:09-cv-01531 (United States District Court for the District of Arizona, July 23, 2009).
Volumetrics Medical Imaging v. GE Healthcare et al, 1:05-cv-00955 (United States District Court for the Middle District of North Carolina, October 27, 2005).