There are several types of cases where firearms expert witnesses are typically involved.
I.          The firearm is claimed to have discharged unintentionally, without the user pulling the trigger.
II.        The firearm or an unsupported cartridge has exploded.
III.      The position of the shooter and or target is in dispute, and a ballistics analysis is required.
IV.       A shooter is accused of negligence due to the circumstances surrounding an intentional act of shooting.
If the case is of an unintended discharge, it frequently is one of he said / she said. A forensic firearms analysis should indicate which narrative describing the disputed events is most probable. If no mechanism of unintended discharge can be demonstrated, such as a broken part, then it is likely that the firearm was deliberately discharged.
If the weapon has exploded, one or more components have been subjected to stresses that the system was unable to handle. There are multiple possible causes for a weapon exploding:
I.          The firearm could have been under-designed with an insufficient factor of safety for at least one component.
II.        The firearm could have been manufactured incorrectly. This can lead to "crib death" which is near immediate failure, or an unacceptably shortened life span.
III.      The firearm could have had an obstructed barrel bringing about a catastrophic pressure spike.
IV.       The ammunition may have generated a higher peak chamber pressure than the firearm was designed to handle. This can be either defective ammunition or an incorrect choice of ammunition.
V.         The firearm could simply be old, and either corrosion or fatigue has diminished component strength.
VI.       After-sale modifications to the weapon, such as drilling multiple scope mount holes in the barrel, could have sufficiently diminished component strength.
If the ammunition detonated out of battery, the bolt may be insufficiently massive, if the action is a straight blow back. It could also be that the ammunition was "hot" and overloaded. If the design has some sort of safety sear, then investigation should show whether this was disabled or otherwise inoperative.
Below are sample photographs from various forensic firearms investigations.



Hang test of holster in order to determine its ability to retain a handgun.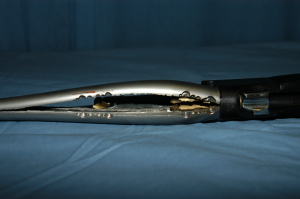 Split barrel due to negligent barrel modification.
Stephen A. Batzer , PhD, PE is a mechanical engineer. He is both a professor and consultant with a nation-wide practice. He is a licensed professional engineer in manufacturing engineering. He is a retired Lieutenant Colonel of Ordnance (munitions) and has substantial firearms expertise. He has written over 65 peer reviewed technical papers, has testified in over 15 trials, and has given over 150 depositions. Dr. Batzer can be contacted by clicking here.