What is an ASIC?
An application-specific integrated circuit (ASIC) is a type of integrated circuit built for a specific application or purpose. This is in contrast to general-purpose integrated circuits, known in the industry as Standard Products, such as microprocessors or memory chips.
Figure 1 shows the layout of an ASIC which includes analog circuits (perhaps to connect to a transducer or MEMS), digital logic, memory (EEPROM) and input-output circuitry. Its engineering is similar to what would be produced using standard products on a printed-circuit board (PCB) but the size is dramatically miniaturized.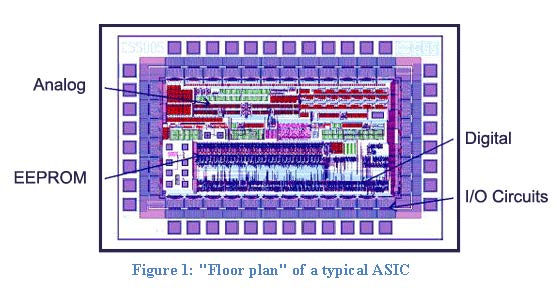 Business reasons to use ASICs, as explained by an ASICs expert witness
The function of an ASIC can usually be accomplished by a combination of standard products. So why would a company go to the considerable expense of creating one?  There are several reasons.
An ASIC can provide a higher barrier to copying of technology. If a company needs to ship its "secret sauce" in every product, it has strong motivation to make it costly for competitors to reverse-engineer its innovations. How best to safeguard intellectual property (IP) is a question I am frequently asked in my technical consulting practice. Hiding the "crown jewels" within the metal and silicon of an ASIC is often a worthwhile option for a technology leader to consider.
Particularly in the consumer and automotive markets, finding a solution which is small and consumes little electrical power can be critical. An ASIC is specifically designed to do one thing, and often achieves that with superbly low power and size.
Compared with other solutions, the production cost using an ASIC can be much lower.
The size, weight, power consumption, IP and cost advantages of an ASIC can be extreme in a high volume product such as a cell phone. This means that the companies making such products employ large engineering teams and invest much time, effort and money in their ASIC developments.
The disadvantage of building a product with ASICs is the significant initial investment in its design and manufacture. IC design requires specialized talent, the software tools used for creating and verifying the design are notoriously expensive to license, and the manufacturing is expensive.  Once the design is complete, a set of masks needs to be produced, which are what the foundry, or semiconductor manufacturing plant, uses to photographically create the chips.  For advanced process "nodes", a set of masks costs tens of millions of dollars.
If an error is found in the circuit after the masks are made, much of the investment needs to be repeated. Design teams await the first ASICs produced by the foundry with a mixture of eagerness and dread.
Litigation around ASICs potentially requiring an expert witness
Since an ASIC requires a high level of investment, but holds the potential to create a device with compelling customer advantages, they are most attractive in high-volume, high-stakes markets such as consumer electronics and automotive. It is no surprise that with this level of investment and potential economic payoff, lawsuits occur regularly.  Here are three examples:
IHTC sued Texas Instruments over signal processing technology which was realized in both TI's Standard Products and its ASICs. The case was settled out of court, with TI receiving a license to three IHTC patents which were at issue.
In February 2016, it was disclosed that Continental Automotive Systems supplied potentially defective air bag control units to 5 million vehicles sold by Honda, Fiat Chrysler, Mercedes-Benz, and three other manufacturers. This potential class-action lawsuit turns on an intermittently faulty ASIC within the air bag control unit. Manufacturing variations in this ASIC allegedly caused the control system to malfunction, with air bags either deploying randomly, or not deploying during an accident. A recall is in progress.
In 2015 TSMC, the world's largest foundry (a semiconductor manufacturer which makes ASICs and other chips from designs generated by other companies) shocked analysts by admitting that it had been overtaken in technology at the advanced 16-nanometer logic node. A key employee leaked secrets to a competitor, resulting in loss of business to the likes of Apple. The tepid legal response to these revelations was described as "truly a national security crisis".
Cases like the above may require an expert witness on Application-Specific Integrated Circuits.
About the author
Dr. Chris Daft is an award winning, Oxford Educated scientist. He is an expert witness and consultant whose areas of expertise include MEMS, transducers, ultrasound and medical imaging. Dr. Daft has extensive Intellectual Property experience including patent development, analysis, licensing, and strategy.  He is a serial inventor who holds 22 U.S. Patents with more pending.  Dr. Daft holds a BA and MA in Physics from Oxford as well as Doctorate from Oxford in Materials Science.  The author may be contacted at:
chris.daft@riversonicsolutions.com
+1 (415) 800-3734   +1 (408) 806 7525
River Sonic Solutions LLC 2443 Fillmore St #380-4039, San Francisco, CA 94115.
References
IHTC Inc. v. Texas Instruments Inc., 2:03-cv-00034, United States District Court for the Eastern District of Texas, January 30, 2003.
A report on the airbag controller ASIC filed with the Federal NTHSA is available here.
An article on TSMC was published by Liang-Rong Chen in CommonWealth Magazine.